Brisket: Amazon and Apple
Rumors at their finest:
Amazon to build an-iPad-killer?
If anyone could do it, I'd guess Amazon.
I currently have 20-30 texts on my iPad. Of that? I'm actively reading one (1) book. Marketing book, at that.
I tend to think of an iPad as a communication and disposable media device. Websites, especially blogs? Perfect for an iPad. Don't have a Kindle, probably not going to get one, but from what I've seen, those are dedicated reading devices. ebook readers.
Pork Ribs: eBook Prices
Cute Blog!
(The term 'cute blog' is not the same as the term, 'cute shoes,' and only truly southern folks understand that.)
Some Jason guy on eBook pricing.
Not to belabor a point, but my eBook price structure is way different.
For example, Two-Meat Tuesday from Amazon costs $19.95-12.95 (printed), Kindle is $2.99, and it's free as a PDF with a mailing list subscription.
Two-Meat Tuesday.
Two-Meat Tuesday is a collection of essays and entries that cover more than a dozen years.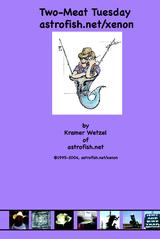 Title: Two-Meat Tuesday
ISBN-13: 978-1411638723
Buy Now (PDF format – eBook) $4.95