From the living room of FGS World HQ (single wide) trailer...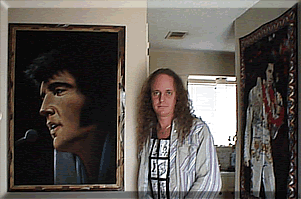 [digital ink by fredlet]
A BOY AND HIS TRUCK

Here's a rare and much sought-after picture of Kramer and the King way back. The story goes that the King and the band we're out cruisin' Memphis one day, getting some burgers and 'nanner sandwiches, when a beautiful white Ford pickup caught the King's eye. The King, bein' who he is and all, stopped the driver (a friendly ol' bubba from the sticks), put his hands upon the car like he was prayin' to Jesus, and told the bubba that his best friend in the world, Kramer, ABSOLUTELY had to have the truck and how much did he need to part with it. The bubba, overcome with emotion, offered it to the King and Kramer with his blessing. And that's the tale of how Kramer came to have his beloved truck, which passerby sometimes see cruising the streets of Austin, Texas.
[photographic image submitted by "Col. Parker" Ben McConnell]

TINY ELVIS SEZ . . .
Elvis aedificum exclessit (Elvis has left the building)