All the Single Girls
All the Single Girls
It's not about all the single girls. All the single ladies? Was that it? I don't know. It's about what signs get along with what signs, simply put.
What got annoying, I was digging through the spam filter to see if I missed anything — one message wasn't spam — and what I noticed was a theme.
LDS Singles
(Begs for an LSD singles)
Christian Singles
(real Christians wouldn't spam me)
Jewish Singles
Big, Beautiful Women singles
Over 50 singles
Mature singles
Latin Singles
What's missing and ripe for ridicule? I didn't check but surely someone notices, how about Muslim Singles?
Oh never mind. Humor, from here on in can only get cruel.
I have advice, in book form, for the single girls. What works and what might be best to avoid. All the single spam made me think of this crap, I get what I deserve for digging around in the spam filter's crap. I know, it's one I should've left well enough alone.
Website: Astrology Compatibility by Birthdate
All the Single Girls
From the website:
Fishing Guide to the Stars: Fishing for love thru the zodiac

The long title ought to be about as self-explanatory as need be.

As an astrologer, my most common question from clients, friends and cohorts:
"I'm a (insert sign here). Do I get along with a (insert sign here)?"

As a writer, this text had the weirdest history. It started out as a book, at an editor's request, then I popped it up on the web page, as I fine-tuned the material. Finally, I published it. Quick, concise, down and dirty look at what signs get along with what signs. Includes a handy thumb-nail sketch for each sign — along with bait suggestions.

It was written over a period of years, with thousands of charts used as archetypes and examples. No names, though. For sure. Tens of thousands of charts.

Much research.

The real title? It should be something like "A Girl's Guide to Bass Fishing, Boys and Boats." Although, it might not be clear, it's a guide on what combinations work best to land what (sign) of boy. Guy. Guide.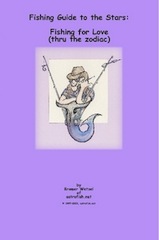 Title: Fishing Guide to the Stars: Fishing for love thru the zodiac
"Astrological Romance Reference"
(Kindle edition)

ISBN: 1-4116-0156-4
Buy Now (PDF format – eBook) $1.98
Website: Astrology Compatibility by Birthdate
Hill County Chocolate:
High Street Chocolate in Comfort, TX. Met the woman and her daughter at a farmer's market. Sampled the wares, and got hooked.
I don't like chocolate.
Never have really liked chocolate, which, as it turns out, includes a finite amount of cocoa butter, but is mostly sugar and emulsifiers. Chemicals and flavors, or chemical flavors. I'm always partial to a good mole, and that similar to High Street Chocolate.
Apparently, it's mostly raw cacao, their site advertises 70%, but the label I was looking at said 78% cacao. Chocolate that's really chocolate.
Literature, really, Science Fiction, introduced me to the technical term, theobromine — that's the secret to chocolate and this stuff is pure.
It's good stuff, with my favorite variant called Aztec. I think it's cayenne.
Cupcakes and Dr. Pepper
I don't recall exactly how the movie Red, other than the stars, mostly Bruce Willis et al, decided to retire from covert ops.
The movie, the sequel, Red 2 is an over-the-to romp full of exotic locations, stuff blowing up, car chases, fisticuffs, and more, much, much more.
Who doesn't enjoy watching an aging Helen Mirren, last seen as the lead in Shakespeare's The Tempest, killing, maiming, and, well, mostly killing with seductive glee and a sardonic wink, maybe a smirk?
Great cast, great action, the right amount of excitement and easy on the intrigue.
"Old guys rule."