Bare Foot Astrology is about how to construct a horoscope then deconstruct the signs themselves. It's a great place to start to learn astrology, and discover how astrology can help you in every area of your life!
It is the easiest way to learn astrology!
Packed with literary allusions, and a few bad jokes, some personal history and several valuable pointers that even a professional astrologer could use, the video is the result of years, more than a decade in the making of, me, traveling back and forth, presenting this material.
I gave this lecture, one time, wearing a nice tux jacket and expensive bolo tie. Usually, though, I'm a little more "Austin" casual. It's about the signs, and it's an introduction. It also contains some material I'd like to see other professionals use.
It's fun, it's a little over an hour, and really, this should be required background material for anyone who wants to use a horoscope as a guide.
The Video —Barefoot Astrology— on demand!
The video helps demystify the arcane arts, and adds a level of much-needed levity to a dry topic. While it won't address too many advanced topics, by the conclusion, there's enough material to make the student an "expert-enough."
Bare Foot Astrology
The BareFootAstrology.com workshop is now available from Amazon and other sources, as a text book.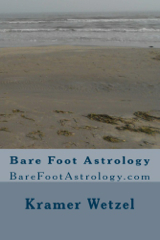 BareFootAstrology.com – Kramer Wetzel
Bare Foot Astrology (Volume 1)
Bare Foot Astrology
Bare Foot Astrology!
It's digitally delivered.
No messy wrapping and packaging, instant gratification.
Short form here
Here's the video, download, stream, enjoy, one location with multiple formats.
BareFoot Astrology (PDF)
astrofish.net/BFA.mov (QuickTime)
astrofish.net/BarefootAstrology.avi.zip (avi format compressed)
astrofish.net/BarefootAstrology.avi (avi format)
astrofish.net/BarefootAstrology.m4v (mpeg format)
astrofish.net/BarefootAstrology.mp3 (audio file only, mp3)